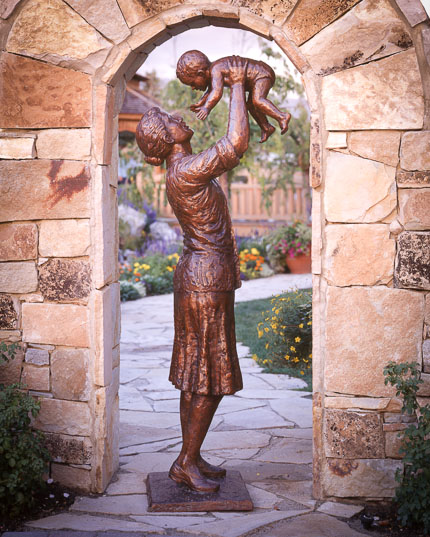 SMILES FOR GRANDMA
Edition of 12
H 75″, W 25″, D 19″
Price: $31,500
We are silly creatures when the new babies come, competing for the slightest of infant gestures and feeling we have accomplished much when rewarded with the slightest gurgling reply. Grandmas are the worst (or best) of all in performing these silly rituals, though Grandpas will sometimes compete for the honor.  And when the silly faces and nutty baby talk draws the slightest response, we bounce these precious hand-me-downs even higher than before, until, tipped up at angles mothers seldom dare to lift them to, they issue one profound and broad response— the throwing up of curdled milk into our faces.
Main Street Art is one of the nation's premiere sources for Fine Art Bronze. Our talented artists cover many styles and subject matter. All work is cast in small limited editions.
For questions about purchasing or commissioning work please contact us.